Gum Disease
Gum Disease Muncie, IN
When you think of dental health, you may automatically think of the health of the teeth, but dentists are also very concerned about the condition of your gums. When gums are neglected, there's a risk that serious conditions like periodontal disease, also known as gum disease, can develop. There is a specialized branch of dentistry called Periodontics that handles these problems. Learn more about periodontal disease and how a periodontist like Dr. Eric S. Browning, DMD, MS can help treat it.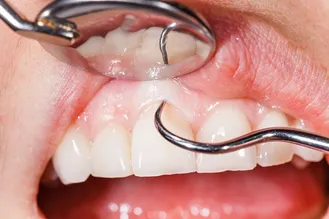 What Is Gum Disease?
Gum disease, also called periodontitis, is an advanced disease in the gum tissue that poses a threat to a patient's overall dental and oral health. The gums are compromised by bacteria that infects the patient's bone tissue and eventually separates the gums from the teeth. If this process isn't caught and treated in its early stages, there may be a risk of tooth loss and infections that could affect the patient's overall health.
What Causes Periodontal Gum Disease?
Gum disease is caused by a buildup of plaque (a sticky form of bacteria that forms on the teeth). If the plaque is not removed (by flossing, brushing, and regular dental checkups), it will continue to build up and create toxins that can damage the gums. Periodontal disease forms just below the gum line and creates small pockets that separate the gums from the teeth.
Periodontal Disease Has Two Stages: Gingivitis and Periodontitis.
Gingivitis — This is the early stage of gum disease, when the gums become red and swollen, and bleed easily. At this stage, the disease is treatable and can usually be eliminated by daily brushing and flossing.
Periodontitis — If left untreated, gingivitis will advance into periodontitis, and the gums and bone that support the teeth will become seriously and irreversibly damaged. Gums infected with periodontitis can cause teeth to become loose, fall out, or need to be extracted by a dentist.
Symptoms of Gum Disease
The symptoms of gum disease become almost impossible to ignore over time.
Here are a few things to look out for:
Red, swollen and bleeding gums
Deep pockets forming between the teeth and gums
Odorous breath that persists even after brushing
Loosening teeth
How Your Muncie, IN Periodontist Treats Gum Disease
Dr. Browning offers periodontal surgery, bone grafting, non-surgical periodontal therapy such as scaling and root planing, and implant dentistry as options to reverse the symptoms of periodontitis. Medication may also be prescribed that can keep bad bacteria at bay. The chance of successfully treating gum disease is high as long as it's treated promptly and you follow the instructions of your Muncie periodontist.


Keep gum disease at bay and keep your mouth healthy by working with a periodontist.
Call Eric S. Browning, DMD, MS in Muncie, IN at (765) 289-4867 to learn more or make an appointment!