Leave Your Kids a Legacy of Great Dental Health With These Simple Tips
posted: Apr. 03, 2022.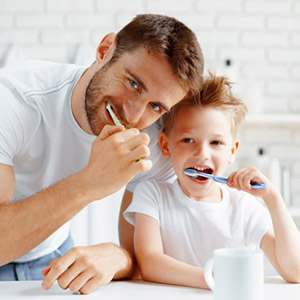 Most parents well remember the day they brought their new baby home from the hospital. And then—in what seems like the blink of an eye—that same child is heading out the door to go on their own. "Empty nest" parents can easily regret not having more time to help their children get a solid handle on life.
With what little time you do have, it comes down to priorities—focusing on those things that are most important for their future well-being. Health, of course, is a big part of that—and oral health in particular.
In fact, the state of their teeth and gums could have a big impact on the rest of their health as they get older. That's why it's crucial to foster good dental care and reinforce tooth-friendly habits during their childhood years. Here's how.
Practice daily hygiene. A lifetime of great teeth and gums depends on a continual, daily habit of brushing and flossing. One of the best gifts you can give your child is to teach them how to properly brush and floss.
Start dental visits early. Regular dental visits support daily hygiene, and provide an early warning system for possible dental disease. Starting visits by their first birthday may also help a child avoid anxiety, making it more likely they'll continue the practice in adulthood.
Give their teeth a healthy head start. Losing even a primary tooth to decay could affect their future dental health. And despite diligence about dental care, some children may still be prone to decay. Give your child an added boost with topical fluoride or sealants to help prevent the buildup of dental plaque.
Practice what you preach. Children often do what they see their parents doing. If you're making dental care a priority—brushing and flossing every day and visiting the dentist at least twice a year—and with a positive attitude, your kids are more likely to follow your lead.
There's so much you want to instill in your children to better ensure they'll have a happy and prosperous life. Make sure these dental care tips are on your short list.
If you would like more information on dental care for kids, please contact us or schedule an appointment for a consultation. You can also learn more about this topic by reading the Dear Doctor magazine article "Taking the Stress Out of Dentistry for Kids."
Tags: oral health,&nbsp pediatric dentistry